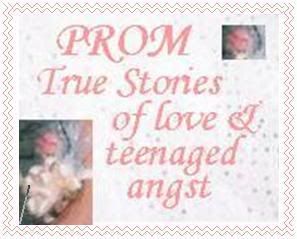 It's finally arrived! Prom Night. I can't wait to hear your stories and see your dresses. As for me...

I had three proms, each of which had its Pure Prom Moment.

Prom #1: Innocence and Endless Hope
As a Junior, I desperately wanted to go to the Junior-Senior prom (you could only go as an underclassman if you were the date of an upperclassman). I had no boyfriend. Never had. Pining away over the tall hunky best friend of my neighbor across the street was getting me nowhere. I asked three different boys to go with me. All of them said no. To be honest, my neighbor across the street initially said yes. He and I had been friends for years. The kind of friends who hang out in each other's rooms, and listen to records, and make up absurd nicknames for each other. (I was "Shodderick." I have no idea why.) The kind of friends who occasionally have little crushes on each other but never at the same time. The kind of friends who ask each other dating advice. He said yes, and then he came over later that evening and said no. It was too much pressure. Too much romance. He didn't feel that way about me. I was sad but honestly not crushed. I was more than a little demoralized when two other friends of mine also declined, however.

I had a dress, you see. A pale pink concoction with off-the-shoulder sleeves and a big, wide sash, and a fluffy skirt. My mother had made me this gorgeous dress, and there I was -- all dressed up and no place to go. And then it turned out that the Cuban Club (of which my Cuban step-father was a member) was having a dance that very same evening of my prom. So while all my friends got dolled up and went out, so did I. The only difference was, I (who adored dancing) got to salsa dance all evening with boys who actually knew how to dance.

Also, I don't think the entryway to the Prom site was filled with old men in guayaberas smoking cigars and playing dominoes.

Prom #2: Pragmatism and Abandonment

My Senior year, there I was again, geeky, fun-loving, boyfriend-less. This time I had a good friend who'd made a deal with me that if we didn't have dates for our proms, we would go with each other. He went to a different school. He was smart, and wrote poetry, and rode skateboards. I figured he would be a fun date. Six of us got together, went out to dinner, gallivanted off to the Junior-Senior prom. In my pink fluffy dress (yes, the same one from the year before; I was determined that it was a Prom Dress, not just a party dress), and my side-ponytail, and my blue eyeshadow (yes, I have brown eyes), I was the very picture of 80s innocence. He had chosen a silvery grey tuxedo to match his grey cowboy boots, and a pink cummerbund to match my dress. We looked lovely. Where lovely = endearingly scrubbed and dressed to our eyeballs in 1987.

And then I lost my date. Seriously. For two hours he could not be found. My friends helped me look. Lots of us missed the dancing, the music, the merriment. We went from curious to annoyed to worried to enlisting the Principal because we were so concerned. Know where we found him? In the hotel bar. Watching basketball. Know what he said by way of explanation? It was too much pressure. Too much romance. He didn't feel that way about me. Story of my (prom) life, apparently.

We all went back to my best friend's house for the "after party" which consisted of marginally watching movies and majorly making out if you were my friends, and marginally watching movies and majorly falling asleep if you were me. I think my date actually watched the whole thing. Know what the movie of choice was? The Shining.

Don't ever say teenagers have no sense of irony.

Prom #3: A Boyfriend At Last

For my Senior Prom, which was held the night of graduation, I actually had a real honest-to-goodness boyfriend-shaped date. He was cute and funny, and he brought me a lovely yellow wrist corsage. In the photos, we look happy. (Sorry, can't bring myself to put him up here without his permission. That's his left arm; his hair was as curly as my bangs, he was tan and grinning and (like me) looked impossibly young; you extrapolate the rest.) I remember that I thought he was a great kisser. But honestly, I remember absolutely nothing about that night except for the very last dance of the evening. And here's why I remember that dance:

My best friend and I, who had been inseparable since 7th grade, had made a pact earlier in the spring. We were going to design and make our prom dresses, both all in white, and they were going to be dreamy and make us feel like princesses. And we typed up all the details of our little pact on a piece of square paper and signed it. And then we shopped for fabric, and her aunt and my mother made us those dresses. Gorgeous, innocent, tiered, princess-dresses. And we wore them.

I assume we danced all evening with our respective boyfriends for the slow dances, and in big groups of half-skipping Madonna wannabes for the faster dances, though I don't actually remember. I do know that our little group was the last group there.

And as the band (why do I think it was a band instead of a DJ? I don't know for sure) finished the last pop song, they swung into a rousing polka -- obviously to clear the dance floor.

The floor was empty, and I wanted to polka. But, of course, my boyfriend didn't know how. Didn't want to. But my best friend did. Oh, yes, she did.

So I led, and she followed, and the two of us in our giant, full white skirts, on the night of our high school graduation, had the entire huge dance floor to ourselves -- and we polkaed and laughed and spun and grinned and sashayed around that floor until the music was over.

I am pretty sure no one in the history of Prom has ever had a dance more filled with pure joy and loving friendship. And twenty-one years later, she is still my very closest friend.


Want proof? In order to post this picture, I had to open the back of a collage frame I sealed 21 years ago on my way to college -- a collage that I still display on the bookshelf in my office at home. Because a truly great friendship can fix anything (like a Prom Night Abandonment) or make anything good even better (like a Prom Night Polka).

Edited to add: PLEASE for the love of all that is Prom Night hilarity, scroll down below this post to read my sister's story of the Chicken Lady. You won't be sorry.

* * * *
So now, let's hear your story. I'm looking forward to hair bigger than mine, dates more oblivious, tales more racy...who knows? But it will be fun finding out. To add your story, just fill out the form below, and please be sure your post links back to this one, so that your readers can come find more fun prom stories (or add their own) too! Thanks. *air kisses* and *princess waves*